The Bodoki on Kickstarter is currently smashing it's goal of $5,000. With only 11 days to go, they have raised an astonishing $21,154.
The Bodoki is a bamboo wood cutting board with more functionality than your average Ikea plastic cutting board. With a reversible bamboo wood top, you're able to avoid cross contamination between meats and vegetables. Each side is marked with a 'meat' and 'vegetable' insignia to help remind you which side is for which. The reversible top also sits on a drainage compartment which helps you with cleaning or retaining delicious marinade.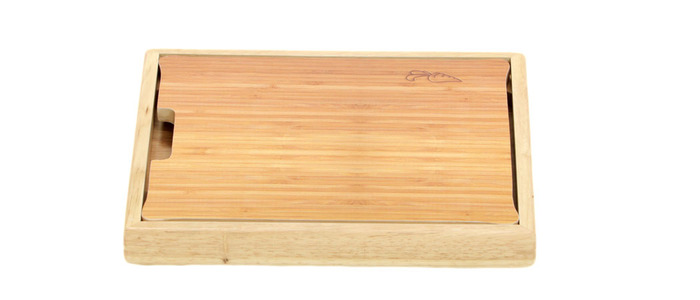 You can imagine the many different situations that the Bodoki cutting board would come in very handy. It specializes in helping you prepare your meal with no mess. Also, being able to marinate your meals with the appetizing juices from all the ingredients would be a perfect compliment to your dish.
What The Bodoki Team Did Great
There was a few different things that the Bodoki team did really well in presenting their Kickstarter project. First, they made an excellent video. The video tells you exactly what the Bodoki is and what it can do for you in just over a minute long. That is absolutely incredible. It's a fine line between telling your product story and rambling on. Unfortunately, many projects ramble on about parts of their product story that backers do not find relevant.
The second excellent move the Bodoki team made was their decision to pass on offering stretch goals. Inside their comments section on their Kickstarter page, a backer asked if there would be any stretch goals in place to them being funded so quickly. Their answer was the following:
"We had thought a lot about stretch goals and after doing some research on how stretch goals often delay projects and get in the way of the actual product, we decided not to do any stretch goals this time." – Anne Pacheco
We love this. They didn't get greedy and shift the focus of the campaign to unnecessary parts of the product. What could they have done anyway? A Kickstarter edition, eco-friendly green cutting board? No! Their goal is generate enough money to support all their backers orders and then take the product to the next level.
The Bodoki Team Brings Experience
The Bodoki team consists of 'Chief Foodie Officer' Anne Pacheco and her team to bring you the Bodoki to your home by next april. Her team consists of Daniel O'Steen, Jared Coates, and Todd Fowler. O'Steen heads up Product design with 9 years of experience in designing kitchenware. Coates bring the business experience and heads up all financial and supplier communications. Finally, Fowler heads up their web design and online presence.
With a strong product that has seen a great deal of success already, we have no doubt the Bodoki team will deliver you a great product. With a reasonable delivery date of April, the team has already proven they are about providing a quality product for their backers. We look forward to following the production of the Bodoki.
THE STEAL – $39 for one Bodoki Cutting Board. It's still Early Bird available!
This
post
was originally published on
this site