Ross Rubin | March 22, 2014 | FoxNews – From artistic expression and social causes to charity and business building and yes, great new gear, crowdfunding is having a deep impact everywhere. Backerjack covers the world of crowdfunded product innovation, showing you the gadgets of tomorrow today.
Snap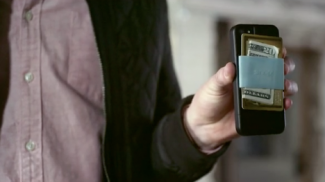 The Premise. Phones and other essential items take up valuable space in pockets and purses. They also cause for a messier lifestyle with everything floating around willy-nilly.
The Product. Snap offers a better way to keep your life organized. Snap is an accessory for your phone, tablet or any other portable device that attaches to other essential items such as money clips or earphones. This nifty product can even be used as a mount to put on bicycles or the backs of car seats. Using a male/female connector system, one side sticks to the device using a strong adhesive while the other side clicks into place.
The TAO WellShell

The Premise. Part of what makes staying in shape such a chore is having to go to a gym to work out. Even with home fitness equipment, it has to be lugged out or take up living space and usually takes full attention as well.
The Product. The TAO WellShell is an unassuming, pocket-sized device that can deliver an intense workout. With customizable settings that can be controlled through the companion app, the WellShell can be an invigorating workout for users of all strengths. As users press the TAO with their hands or against a surface, the WellShell vocally advises the user to apply more or more or less pressure until the right zone is found and held. The exercise works on the same principles as pilates or planking. The WellShell can also monitor heart rate and function as a pedometer.
The AirBulb

The Premise. In the 21st century, a lot of innovation and engineering has gone into making artificial light less energy-intensive, longer-lasting, and more natural to the health of the eye. But why do our lightbulbs only serve to illuminate the dark when they could be doing much more?
The Product. The AirBulb is a smart, Bluetooth LED lightbulb that syncs up to iOS and Android devices that has an internal speaker for enjoying music without any complicated wiring. AirBulb can be used in any standard lamp socket and can be controlled traditionally or through the AirBulb app. With the app, light warmth can be changed, and the bulb can be set to flash in conjunction with an alarm clock or as a notification of an incoming call.
read more: http://www.foxnews.com/tech/2014/03/22/backerjack-presents-3-great-crowdfunded-gadgets/
This
post
was originally published on
this site